Paperback: 210 pages
Publisher: Daphne Publications (March 31, 2015)
Language: English
ISBN-10: 0692311440
ISBN-13: 978-0692311448
---
This is another case in which the lecture gave birth to the book.
Recently we recommended an audio recording of the lecture titled: "Facing the Death Mother" by Massimilla Harris, PhD. Today we refer you to the book written by this analyst in cooperation with her husband, also Jungian analyst himself. This bok is entitled: "Into the Heart of the Feminine: Facing the Death Mother Archetype to Reclaim Love, Strength, and Vitality".
Into the Heart of the Feminine
---
Drs. Bud Harris and Massimilla Harris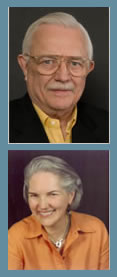 , are both Zuich trained Jungian analysts in private practice in Asheville, North Carolina.
They've met during their analytic training in Zurich. Currently they live together in Asheville, where they both maintain their clinical practice, give lectures and write books.
---
Tags: Bud Harris, death mother, feminine, Massimilla Harris