Series: Studies in Jungian Psychology By Jungian Analysts (Book 140)
Paperback: 112 pages
Publisher: Inner City Books (April 7, 2014)
Language: English
ISBN-10: 1894574427
ISBN-13: 978-1894574426
Maria Helena Mandacarú Guerra is a Jungian psychologist practicing in Sao Paulo, Brazil. Her book THE LOVE DRAMA OF C. G. JUNG: As Revealed In His Life And In His Red Book is a study of "an Ariadne's thread"; "an absolutely personal story line, the light and the shadow, charged with seeking, suffering, guilt, and self-realization that we can now see corresponds to what Jung described later as the process of individuation." . In this study the author shows how Jung came to develop the concepts of anima, shadow, Self and individuation. And it is done with connection to "the Eros-thread from his wife Emma through his patient Sabina Spielrein to his muse Tony Wolff, and so to the creation of the Red Book". (excerpts from the Foreword by Carlos Byington).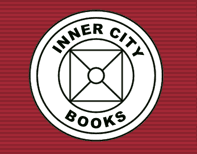 Daryl Sharp and the Inner City Books
Daryl Sharp started Inner City Books in 1980 to promote the understanding and practical application of the work of C.G. Jung. It is still the only publishing house in the world devoted exclusively to books written by Jungian analysts. There are now 141 titles by over 50 authors in the series Studies in Jungian Psychology by Jungian Analysts – authoritative works on basic Jungian principles, women's studies, spirituality, alchemy, relationships, dream and fairy tale interpretation, masculine psychology, midlife issues and much more.
Over a million books have been sold, with more than 250 editions in 20 languages.
Among acclaimed authors of Inner City Books there are Marion Woodman, Marie-Louise von Franz, Edward F. Edinger, James Hollis, James A. Hall, Sylvia Brinton Perera, Eugene Monick, John P. Dourley, Aldo Carotenuto and Janet O. Dallett.
Read the story behind Inner City Books
Tags: analytical psychology, C. G. Jung, Red Book