Artists, thinkers, and cultural icons were paired on stage with Jungian analysts or scholars and invited to respond to and interpret a folio from Jung's Red Book as a starting point for a wide-ranging conversation. This series – Red Book Dialogues – was based on a series that originated at the Rubin Museum of Art, New York. Rabbi David Wolpe & Lionel Corbett took place in May 2010 in Hammer Museum.
David Wolpe is the Rabbi of Sinai Temple in Los Angeles and the author of seven books, including the national bestseller Making Loss Matter: Creating Meaning in Difficult Times. He previously taught at the Jewish Theological Seminary of America in New York, the American Jewish University in Los Angeles, Hunter College, and currently teaches at UCLA. Rabbi Wolpe's work has been profiled in the NY and LA Times, and he regularly writes for many publications, including The LA Times, the Washington Post's On Faithwebsite, The Huffington Post, New York Jewish Week, and others. He has been on television numerous times, featured in series on PBS, A&E, the History channel, the Discovery channel, as well as offered commentary on the TODAY show, CNN and CBSThis Morning.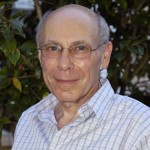 Lionel Corbett trained in medicine and psychiatry in England and as a Jungian Analyst at the C.G. Jung Institute of Chicago. His primary interests are in the religious function of the psyche, especially the way in which personal religious experience is relevant to individual psychology, and in the development of psychotherapy as a spiritual practice. Corbett is a core faculty member of Pacifica Graduate Institute, in Santa Barbara, California, where he teaches depth psychology.
Tags: cultures, Lionel Corbett, Red Book