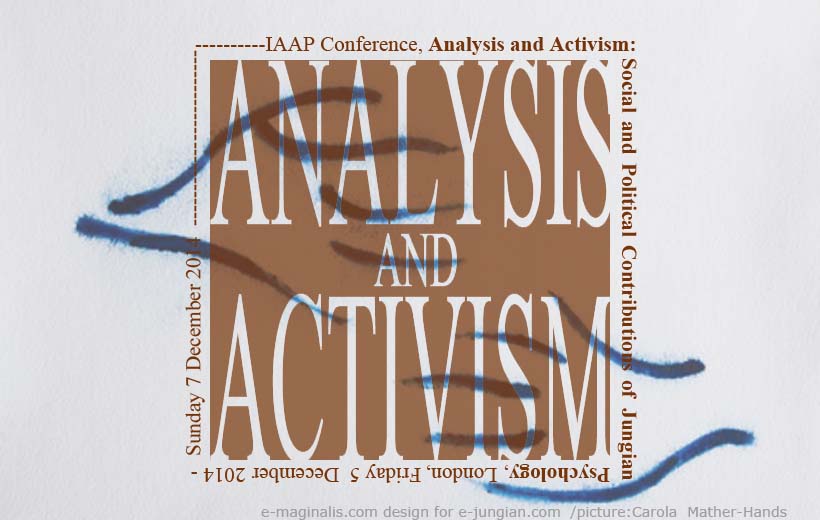 Jungian psychology has taken a noticeable 'political turn' in the past twenty years. Analysts and academics whose work is grounded in Jung's ideas have made internationally recognised contributions in many areas. These include: psychosocial and humanitarian interventions, conflict resolution, ecopsychology, issues affecting indigenous peoples, prejudice and discrimination, leadership and citizenship, social inclusion, and economics and finance.
The conference Analysis and Activism will be of interest to activists, concerned citizens and academics – as well as to the whole range of clinical disciplines, whether Jungian or not. Particularly students and trainees are welcomed. It is the first occasion on which these contributors have been brought together from many countries specifically to address many of the most pressing crises and dilemmas of our time.
Friday December 5th 2014 (6.00pm wine and canapés reception, 7.30 – 10.00pm conference)
Saturday December 6th (9.30am -7.00pm – Social Dreaming 8-9am)
Sunday December 7th (9.30am to 2.30pm – Social Dreaming 8-9am)
Venue: Wesley Ethical Hotel and Conference Centre, 81-103 Euston Street, London NW1 2EZ, UK
Speakers include: Lawrence Alschuler (Switzerland), John Beebe (US), Jerome Bernstein (US),Walter Boechat (Brazil), Stefano Carta (Italy), Angela Cotter (UK), Peter Dunlap (US), Roberto Gambini (Brazil), Gottfried Heuer (UK), Toshio Kawai (Japan), Tom Kelly (Canada), Sam Kimbles (US), Tom Kirsch (US), Ann Kutek (UK), Kevin Lu (UK), Francois Martin-Vallas (France), Renos Papadopoulos (UK), Eva Pattis-Zoja (Italy), Joerg Rasche (Germany), Susan Rowland (US), Mary-Jayne Rust (UK), Craig San Roque (Australia), Andrew Samuels (UK), Heyong Shen (China), Tom Singer (US), Tristan Troudart (Israel), Luigi Zoja (Italy).
Important note: The venue of the conference has changed for Hallam Conference Centre (see venue box below).