Paperback: 240 pages
Publisher: Fisher King Press (November 1, 2014)
Language: English
ISBN-10: 1771690208
ISBN-13: 978-1771690201
It seems to me that there are important reasons that we are listening to the story of the elders. It is not pure sentiment, nor is it just longing for idealized past that we would want to save in our attempts to find grounding in times of transitions and redefinitions of what the Jungian identity means to us. By honoring and paying our respects to the past we are maintaining the continuity of tradition, which is the prerequisite for moving into the realm of innovation. Jungian analysis is a deeply personal thing. It is through personal sharing that we learn it. The path on becoming a Jungian analyst, and our subsequent career, intertwines in a complicated, wonderful and mysterious ways with our life as a whole. We are striving to become more whole, which becomes the shining thread in the tapestry of our life. Eventually it affects not only who we are as professionals, but who we simply are as human beings. In that sense, I think that to be a Jungian also means to be a member of a certain family. Not the societal circle, not the professional society, not any kind of secret cult, but the family. As James Hillman once pointed, family is actually not about the blood connection but about the place that is being shared.
Quite recently I have been reading Tom Kirsch's Jungian Life. One voice of the elders. In a moving and personal way he describes his early life and the life journey of his family, with his parents – both Jungian analysts of the first generation and initiators of the Los Angeles Jungian world. It is so moving now to read Gilda Frantz's Sea Glass, where she writes:
I miss those old days and all those people who became part of my family. My daughter Marlene and son Carl thought of James and Hilde Kirsch as their grandparents.
With all due respect for the differences between the blood ties and the professional ties, the symbolic meaning of this kind of connection needs to be recognized and valued.
Gilda Frantz wrote a moving book. In some review you can read that this book is a gem. I agree.
It would be a sort of a commonplace to say that one learns how to be available for the people through one's own life struggles and challenges. In the same time, we all recognize that as analysts, we can only guide the person, who as the analysand is entrusting us with his or her own life, as far as we ourselves have gone along the way of inner struggle. Gilda Frantz struggled a lot. Her own description of her early life invokes both respect and wonderment about the inexorable striving of the soul for meaning and wholeness. And she says:
I am now in my mid-eighties and have been an analyst for almost forty years. The memories I have shared belong to the dusty, distant past, yet they also have a life of their own. My life's journey is a splendid example of luck, love, and individuation, but it is especially one of fulfilling my destiny.
There have been many reviews of this book. I would like to quote one, by Jean Shinoda Bolean. It is as follows:
Gilda Frantz knows first hand about difficult childhoods, early widowhood, aging, death of a beloved grandchild, and closeness to the end of life. She knows about suffering and the creativity and soul growth that can go hand in hand. These are themes in her own life and in her observations of others. Sea Glass is an apt metaphor for this book—to discover why requires reading it.
I recommend you the Sea Glass: A Jungian Analyst's Exploration of Individuation and Suffering by Gilda Frantz. Instead of e-book, try to get the paperback,. Have the texture, the touch and the smell for the things that are being described.
TJJ  
Buy the book at Fisher King Press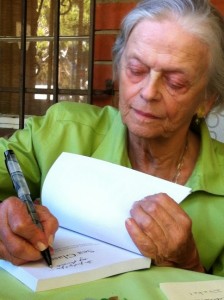 Gilda Frantz Gilda Frantz is the co-editor-in-chief of Psychological Perspectives, a journal of Jungian thought of interest to anyone in search of self-understanding. She is one of the original editors of this journal, founded in 1970. For three years she served as president of the C. G. Jung Institute in Los Angeles. Mrs. Frantz is a Director Emerita of the board of the Philemon Foundation, having served throughout the publication period of Jung's Red Book. She practices in Santa Monica, California.
Tags: books, individuation, Los Angeles, sea glass, suffering